---
Pole Bending DVD Set!
---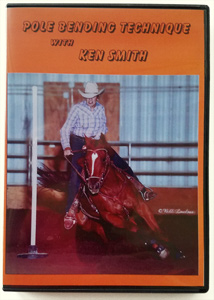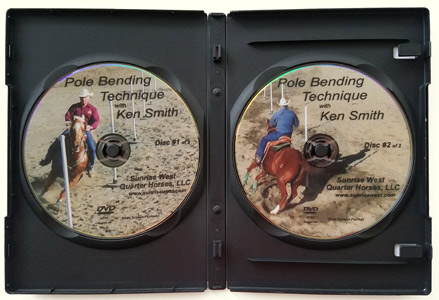 We have a newly revised, self-produced video available in a two DVD Set that demonstrates the technique and the exercises we teach at our clinics, and includes examples of some of the drills we use which we feel are an important part in training success for both horse and rider. Included are examples of correct technique and also problem analysis. Several high speed pole bending runs are also included. You will find the information immediately helpful, and you can also use it as an introduction before attending one of our Pole Bending Clinics, and as a review after.
The video progresses like this:

An introduction to the technique, ridden slowly at a trot and lope, viewed from an overhead position.
Rider positions - position-left, position-right, and why we use them, and what the reins and legs do.
A more detailed analysis of the technique, slow and at speed, explaining horse and rider positions.
Anatomy of the turn, where it might go wrong, and what to do to fix it, and examples of successful turns.
The first turn, critical points needed for success, the most common mistake with the first turn, and examples of good first turns.
The counter-flex exercise and its importance for pole bending.
Suppling exercises, turning drills, bending drills, rein positions, analogies and anecdotes to show why things happen the way they do.
Examples of high speed runs.
For a brief edited sample from this DVD, start the media player below.



Feedback Comments
Hi Ken, I love your DVD so much I am buying this one as a gift to another high school rodeo family.
C. in California
Ken,
Well I don't know where to start.... Thank you for this amazing video of a different way to look at the pole pattern... 3 days of applying your skills and we have a different pole horse!! I'm sure we are not doing it 100% accurate as it is our interpretation of what we see and hear in the video.... Can't wait to get to a clinic soon!! Again great video!!
Thank you,
L. and P. in Oregon
Ken,
I just wanted to email and say THANK YOU for your amazing pole bending DVD!!!! It has helped me so so so much. I am training a new horse right now and have gone back to this DVD over and over whenever I have a problem or feel that something is off, and the answer is always on the DVD somewhere! Even though we aren't going fast yet or competing, I just feel so much more confident about how to make our runs and how to leave the poles standing. Everything about poles seems so much more straightforward now and I could not be having more fun with my mare :).
Thank you! C. in Arizona
Dear Ken and Pat,
... Thank-you for the best info on the market!
B. in Texas
Ken,
I just wanted to let you know that I received your dvds a couple of days ago and I am really impressed with the content. I have learnt a lot and the last couple of days I have gone right back down to basics. I have taken the bridle off and gone back to a snaffle and spent lots of time in a trot shaping her by using my inside hand and leg. I must admit I am struggling with myself to keep my hands down but she seems to be getting it. Today I kept her going through the poles at a lope several times and didnít knock a single pole down, in fact we didnít even get close! I am going to keep it slow for a while to really retrain myself and her. Thanks again for a great product!
B. in England
Ken,
Your video is FANTASTIC. It is so clear and informative. You have broken down each move in a very understandable manner and shown step by step how to apply it. Your methods have already made a big difference in the way my horse is working and brought out ALL of our weak areas! I like all of the suppling exercises you use and explain which areas they will help your horse in. Thank you for making such an informative video. It is helpful on many levels and will truly improve horsemanship in anyone who sees it.
J.
Order the Pole Bending DVD Set Here: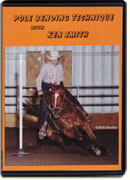 DVDs are IN STOCK! The price is $41.95 each, US funds + shipping.

We will ship anywhere, USPS First Class, or First Class International - shipping rates vary. For US customers, shipping for a single DVD order is only $5.00

To use Paypal or a credit card, click on the Buy Now button. The shipping charges will be calculated in advance of your purchase.
No Paypal account? That's okay - Just click on the Buy Now button and you will have the option of using your credit card.

---
---
If you found this information via a search and you have not yet seen our Pole Bending and Horsemanship section, we would like to encourage you to take a look.
---
All content in this document copyright © Sunrise West Quarter Horses, LLC, all rights reserved.