---
Shawnes Honor - 2006 Gelding
out of an own daughter of Shawne Bug, by an own son of Jet of Honor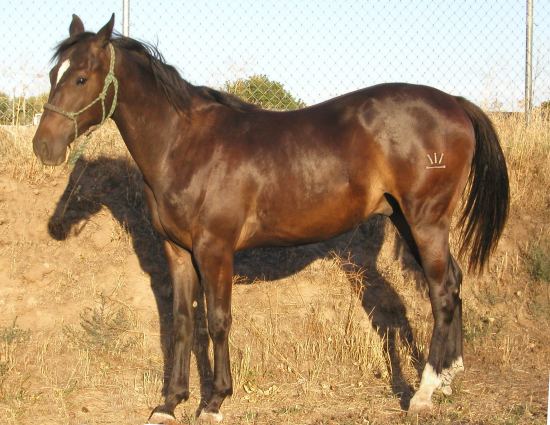 ---
---
This horse was foaled on March 29, 2006. The mare is an own daughter of Shawne Bug, a stallion that has consistently been on the list of leading maternal grandsires of money winning barrel horses, and he is the number two leading maternal grandsire on the list in the 2005 statistics.
His registered name is Shawnes Honor, and this is a really nice foal. We like everything about him. 'Joey' is very friendly and seeks attention. He runs smoothly when he plays, changing leads at ease. He is going to be fast. He has big brown, kind eyes. He is telling us in every way that he wants to learn, and that he'll be easy to train. And he has his own personality - he likes to snooze with his chin stretched out on the ground in front of him.
This mare is not just a well-bred broodmare. She is also a performer. She is an AQHA Superior Pole Bending Horse with 70 AQHA points, and she has placed 4 times in World Show competition.
Daisy is a very people-friendly horse, mild-mannered and easy to get along with. She is registered as brown. She has the black legs of a bay, but her mane and tail are not black.
Note also that this mare is one of the rare daughters of Shawne Bug with a regular AQHA registration number. So many Shawne Bug horses are Appendix-registered, as he was bred to a lot of Thoroughbred and Appendix-registered mares.
This foal was sired by Honorable Fortune, a 1995 black own son of the great stallion, Jet Of Honor, and he is the number 11 leading paternal grandsire in the 2005 statistics. Honorable Fortune stands 15 or 15.1 hands, and weighs about 1050 pounds. His oldest offspring will be four years old in 2007.
So who was Jet of Honor? Here's what Ed and Martha Wright have to say:
" ... occasionally you will find a stallion that is a "strong breeder", which means he usually puts more of his traits and conformation in the offspring than the mare does."
"One stallion in the barrel industry that we feel did this is the now-deceased stallion Jet of Honor, sired by Jet Deck out of a daughter of Lightning Bar by Three Bars (TB), which was out of a daughter of Leo. Lightning Bar was a race horse but he sired Doc Bar, the great sire that created today's cutting horse dynasty. Jet of Honor was truly a prepotent stallion and we have to give him equal billing with the broodmare, because he definitely put speed in the foal, as well as heart, try, and the ability to run barrels, regardless of what he was bred to. Jet of Honor sired a better-looking horse than he was and that's the sign of an outstanding sire."
"We've never known of a sire that has sired colts that can work so many different styles for so many different levels of riders and trainers. Because of the attitude and trainability of the Jet of Honor offspring, they make top barrel horses."
Barrel Racing: Training The Wright Way, Ed and Martha Wright, quoted with permission.
What an outstanding pedigree, loaded with barrel horse power! It is displayed at the bottom of this page. Take a look: Shawne Bug and Jet Of Honor as grandsires, and he will have Jet Deck and Lady Bug's Moon on his papers!

Ask us more about this horse via Email:
---



The sire, Honorable Fortune, an own son of Jet Of Honor.

You can click on the photo at the left to see it enlarged.



The dam, Daisy Duck Bug. You can See her photos and information here >>
---
Ken and Pat Smith
Sunrise West Quarter Horses, LLC
2240 4th Avenue
Clarkston, Washington WA 99403
509-758-9426

---
Pedigree of Shawnes Honor - 2006 Gelding - X0657912
---
(SIRE side)
Jet Deck
Moon Deck
Jet Of Honor
Miss Night Bar
Quincy Liz
Lightning Bar(Three Bars)
Honorable Fortune
(X0526533)
Leo Liz (Leo)
Mighty Salute (TB)
All Salute
Flammable Fortune
Mighty Loran
Flaming Jar Jet
Flaming Jet (Jet Deck)
Dandy Yequa
---
(DAM side)
Lady Bug's Moon
Top Moon
Shawne Bug
FL Lady Bug
Shawne Win
Lewin
Daisy Duck Bug
Shawne (TB)
Duck Dance (TB)
Water Prince
Our Duckling
Classic Rhythm
Boonetown Girl
Johnny Boone
Deckas Doll
---