---
Daisy Duck Bug, performance proven broodmare 1995 Brown Mare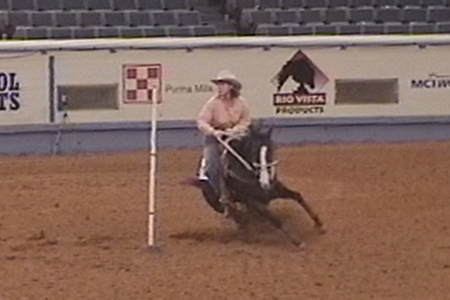 Daisy is an own daughter of Shawne Bug, a stallion that for years has found a significant place in the pedigrees of money-winning barrel horses.
This mare is more than just a well-bred broodmare. She is also a performer. She is an AQHA Superior Pole Bending Horse with 70 AQHA points, and she has placed 4 times in World Show competition.
Daisy is a very people-friendly horse, mild-mannered and easy to get along with. She is easy to breed, and she foals out easily as well. In fact, she has surprised us by giving birth in the pasture on two occasions. She is registered as brown. She has the black legs of a bay, but her mane and tail are not black.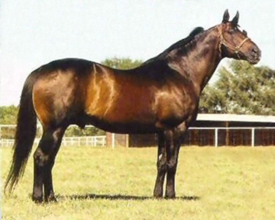 Note also that this mare is one of the rare daughters of Shawne Bug with a regular AQHA registration number. So many Shawne Bug horses are Appendix-registered, as he was bred to a lot of Thoroughbred and Appendix-registered mares.
The great bloodlines of the past are still available today, but they are rare! Shawne Bug is making his mark today as one of the leading maternal grandsires of money winning barrel horses. To get him in that place in the pedigree, you must have an own daughter, and for us, that daughter is Daisy Duck Bug.
---
---
Daisy Duck Bug is in the pedigree of the following Sunrise West horses:
---
Ken and Pat Smith
Sunrise West Quarter Horses, LLC
2240 4th Avenue
Clarkston, Washington WA 99403
509-758-9426

---
Pedigree of Daisy Duck Bug - AQHA 3421275
(You can click on the horses' names in
red

to learn more about them.)
---
(SIRE side)
Top Moon
Moon Deck
Lady Bug's Moon
Rica Bar
FL Lady Bug
Sergeant
Shawne Bug
Yeager's Lady Ja
Lewin
Direct Win (TB)
Shawne Win
Miss Joaster
Shawne (TB)
Spotted Bull (TB)
Mia Mar (TB)
---
(DAM side)
Water Prince (TB)
Beau Gar (TB)
Duck Dance (TB)
Water Queen (TB)
Classic Rhythm (TB)
Swoon's Son (TB)
Our Duckling
Classic Verse (TB)
Johnny Boone
Rebel Cause
Boonetown Girl
ME Bright
Deckas Doll
Deep Fathom
Decka Val
---