---
Remembering Money Red Bar, Barrel Horse Dam 1994 Sorrel Mare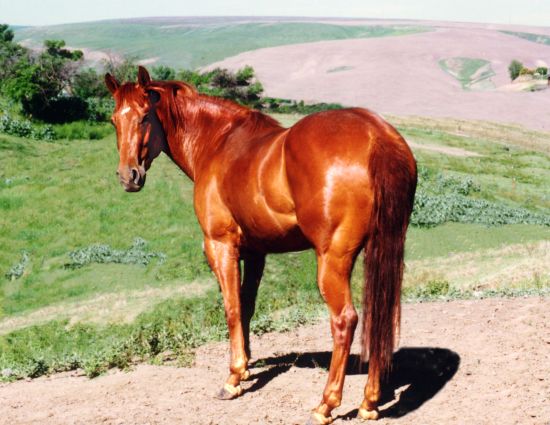 'Money' was an own daughter of On The Money Red, all time leading sire of money-winning barrel horses.
We purchased Money from Victory Farms as a 2 year old futurity prospect. She started well, and had an explosive burst of speed. Unfortunately, she developed an injury that ended her competitive career.
All of Money Red Bar's foals have been outstanding individuals. She endowed them with heavy bone, bulging muscles, low-set hocks, and super-quick bursting speed. She always gave up her sorrel color. She produced a red roan, chestnut, seal brown, and palomino.
She was a kind horse, and never expressed any aggression toward humans. In the pasture, however, things were different. She was the alpha mare in our small herd. She would not antagonize other horses, but she made sure she got what she wanted, when she wanted it. Money had a soft brown eye and a very active muzzle. We would sometimes observe her standing in her paddock awaiting breakfast, with her nose flicking left and right. And that nose could roll over a 40 gallon water trough as if it were as light as air.
She is the dam of our 1999 stallion, Verily Sixes, and the 2000 gelding, Ashes On The Money, that proved to be a winning pole and barrel horse for Ken. The next year she produced a full brother, Money In The Ashes, a seal brown gelding that we sold and is now in California. In 2002 she had a palomino filly by Fire Water Flit, Fire Water Sandy Bar. This mare matured to be much like her, with the quick explosive speed and heavy muscled body, and she has won pole bending futurities, as well as having done well in the barrel pen.
The influence of Money Red Bar is evident in the first year offspring of Verily Sixes, a 2002 bay stallion named Verily Six Bugs. He was owned by Outlaw Acres, Long Island, New York. He was the AQHA Barrel Racing Stallion of the year as a 4 year old, and went on to be named IPRA horse of the year.
Please note Money Red Bar's bottom side - she was out of an own daughter of St. Bar. You'll find his photo in the first 'Legends' book in the Three Bars article.
---
---
Money Red Bar is in the pedigree of the following Sunrise West horses:
---
Pedigree of Money Red Bar
(You can click on the horses' names in
red

to learn more about them.)
---
(SIRE side)
Bennie Leo
Dynamatic (by Leo)
Bennie's Big Red
Tonkawa Ploma
Pay Jay
Ben Jay
On The Money Red
Pay Day Star
Little Dick Priest
Adios Kip
Dolly Priest
Dixie Britt
Queen Jacket
Misty Joe
May Queen
---
(DAM side)
Three Bars (TB)
Percentage (TB)
St Bar
Myrtle Dee (TB)
Bella St Mary
Spotted Bull (TB)
Shea St Bar
Dolly Mack
Go Dick Go
Little Dick Priest
Lady Godiva Go
Miss Array
TE Hattie
Irish Azure (by Azure Te)
Hula Hattie (by Tonto Bars Hank)
---