---
Ashes On the Money 2000 Brown Gelding 15.1, 1,100 lbs.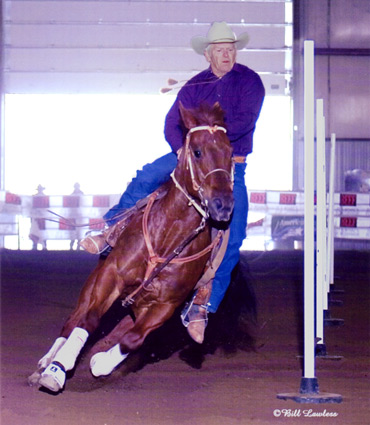 ---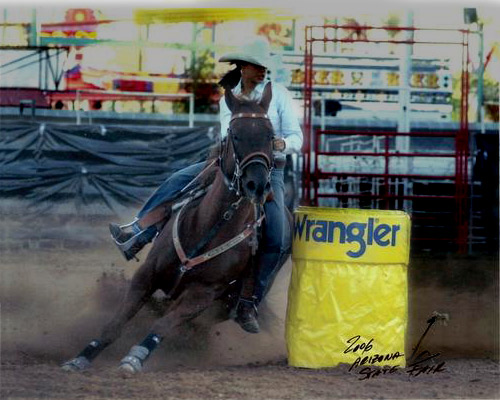 This is 'Ashes'. Ashes is sired by Ashes In The Fire, an own son of Fire Water Flit. He is out of an own daughter of On The Money Red, all time leading sire of money-winning barrel horses. Ashes' dam, Money Red Bar, has endowed her offspring with bulky muscles, quickness, and power. He now stands just about 15.1
Ken Smith and Ashes On The Money won both goes and the average at the 2005 WBRA Speedhorse Pole Bending Futurity at Moses Lake, Washington. They won the Open Pole Bending average at the same event in 2006, and they swept all three runs at the AQHA Summer Classic at Central Point, OR in 2006. Ashes is promising to be a great pole bending horse. He has been trained using the method we teach at our clinics, with a correct, head-to-the-inside pattern, and he has been taught to respect the poles and leave them standing.
Ashes is a Flit Bar. Flit Bars are known for low, smooth hindquarter turns. He is a half brother to Twist Kokomos Jet, the horse Pat campaigned successfully on the futurity circuit in 2000. Twist was quick and sensitive, very agile, and had a great stop. Ashes, like Twist, will naturally rate a barrel or pole when you sit down. He will drop his hindquarters, and leave his front end slightly elevated, and will turn his barrels and poles in three pivots. That makes him very easy to ride, very smooth in spite of his quickness.
Ashes is now owned by Missy Sullivan. You will see this Arizona team winning in both poles and barrels in the big southwest 4-D races.
---
---
---
Pedigree of Ashes On The Money
(You can click on the horses' names in
red

to learn more about them.)
---
(SIRE side)
Flit Bar
Sugar Bars
Fire Water Flit
Flit
Slash J Harletta
Harlan
Ashes In The Fire
Frog's Annette
Bugged Moon
Top Moon
Bug Missy
Ralph's Lady Bug
Pudden Hancock
Pudden Head
Kokomo Hancock
---
(DAM side)
Bennie's Big Red
Bennie Leo
On The Money Red
Pay Jay
Dolly Priest
Little Dick Priest
Money Red Bar
Queen Jacket
St Bar
Three Bars (TB)
Shea St Bar
Bella St Mary
Lady Godiva Go
Go Dick Go
TE Hattie (to Tonto Bars Hank)
---
---
Ken and Pat Smith
Sunrise West Quarter Horses, LLC
2240 4th Avenue
Clarkston, Washington WA 99403
509-758-9426

---
All content in this document copyright © Sunrise West Quarter Horses, LLC, all rights reserved.