---
Sumbunnydunnickbar 2001 Sorrel mare 15.1, 1,100 lbs.
This is 'Nicky'. Ken Smith and Nicky placed 10th out of 65 in the 2011 Fort Worth Timed Event Challenge Pole Bending. Earlier in Nicky's career, they won the average and the Championship at the 2006 WBRA Speedhorse Pole Bending Futurity at Moses Lake, Washington, and she was third in the average in the 2006 Gillette pole futurity. In June, 2007, Nicky put together three clean, consistent runs to win the Senior Pole Bending Circuit Series Championship at the Central Point, Oregon AQHA show. In 2007, she earned her AQHA Register of Merit (ROM) in pole bending with limited AQHA showing. She has been trained using the methods we teach at our pole bending clinics.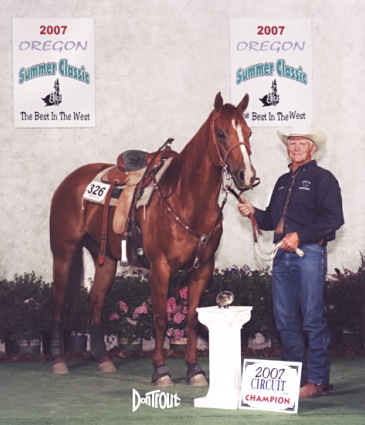 Nicky was sired by the late, great Dr Nick Bar, one of the two best known sons of Flit Bar, the other being Fire Water Flit. Dr Nick Bar is also the sire of Lindsay Sears' great horse, Martha. Flit Bars are known for low, smooth hindquarter turns. Dr Nick Bar himself was a standout performer - a crowd pleaser with his super smooth, close turning style. Dr Nick Bar first came to prominence by running the fastest qualifying time his futurity year in Fort Smith, AR. He qualified for the AQHA World Show as a 3-year old in the team roping heading, and he was a Superhorse contender in 1983, having qualified in the team roping heading and heeling, barrel racing, and pole bending. Dr Nick Bar started Fallon Taylor on her professional rodeo career with big wins at major WPRA rodeos, and he remained sound and was still winning into his twentys.
Her dam, Backfire Bunny, was ridden by Mary Roberts to wins totaling approximately $12,000 in less than one year. Mary reports that she won second at the Mesquite and Humble, Texas WPRA rodeos and won the rest at CTBRA, TSBRA and open 4D barrel races. Then a fractured sesmoid prematurely ended her performance career. She was light mouthed and really eager to please. She had natural rate at the barrels, but she also hit another gear when she got in the turns. She could handle any type of ground because of her turning style. Deep ground never phased her.
Backfire Bunny's sire, Mr Sonny Bunny, was Dixie Thomas' rodeo horse. We have heard that he was one of the top horses in his day. Dixie did well in the WPRA, CPRA ,and IPRA on him.
For a quick video of Nicky making a 20.2 second pole bending run in November 2009, start the media player below:

Ask us more about this mare via Email:
---
---
---
---
Pedigree of Sumbunnydunnickbar
(You can click on the horses' names in
red

to learn more about them.)
---
(SIRE side)
Sugar Bars
Three Bars
Flit Bar
Frontera Sugar
Flit
Leo
Dr Nick Bar
Julie W
Leo Tag
Leo
Este Tag
Tagalong
Little Estileta
Chubby Dun
Estileta McCue
---
(DAM side)
Sail On Bunny
Bunny Bid
Mr Sonny Bunny
Miss Myrna Mix
Fanciest Lady
Easy Jet
Backfire Bunny
The Lady Bug
Ranch Bars
Sugar Bars
Ranch Bars Annie
Akin's Judy
Alkali Annie
Steeldust Jim
Gentile Winnie
---
---
Ken and Pat Smith
Sunrise West Quarter Horses, LLC
2240 4th Avenue
Clarkston, Washington WA 99403
509-780-9426

---
All content in this document copyright © Sunrise West Quarter Horses, LLC, all rights reserved.