---
Easy Jet, AQHA Sorrel Stallion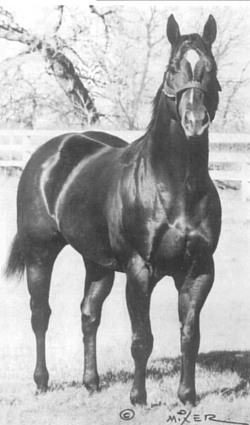 Everyone who knows anything about Quarter Horses has heard of Easy Jet. He was sired by the great Jet Deck, and out of a mare named Lena's Bar, a thoroughbred that was a truly great race horse herself, outrunning such legends as Go Man Go and Double Bid. As a 2 year old, Easy Jet won the All American Futurity and numerous other prestigious races. He was named Champion 2-year-old colt, and in this same year was named World Champion Quarter Running Horse and Champion Stallion, titles seldom bestowed upon a 2-year-old.
He rose to fame at the height of the Quarter Horse racing game, when the southwest was rich with oil and gas money. In 1980, Easy Jet stood for a fee of $30,000, and was later syndicated for $30 million! He produced just over 2,500 registered foals, placing him near the top of the all time AQHA producer list. Easy Jet remained an equine celebrity throughout his life, influencing people as well as horses. We've seen his halter with brass name plate hanging proudly in the office at Belle Mere Farms in Lexington, Oklahoma. There is little doubt that he will remain one of the greatest Quarter Horses of all time.
But why should barrel racers care about this great horse of yesteryear? One reason is soundness. Easy Jet endured an incredible schedule during his 2-year-old year, racing way more than other horses his age, and he remained sound and willing. In fact, he remained sound his entire life. Then there is energy. It was said of him that he was a "busy" horse, always active and wanting to move. When that energy was channeled into racing, he achieved greatness. And Easy Jet wasn't just fast, he was quick. That trait did not endear him to his race jockeys, who needed to concern themselves with becoming unseated, but in barrel racing, we know what to do with that kind of quickness.
Walter Merrick, Easy Jet's owner, made these comments in interviews with Barrel Horse News: "I think his bone had a lot to do with it (his retiring sound). He was just always sound. He never had a sore day in his life." "He never was a mean colt at all, but he was on his toes all the time. He never did have any buck in him, but he was just a hyper-kind of horse ... he could move so quickly, so fast, it was hard to stay with him." "Anything that's got Easy Jet in it, they could run. They have good minds on them, and they're smart. You could teach them about anything."
Easy Jet achieved success as a stallion because he was able to pass on the traits that made him great. Two of Easy Jet's sons appear frequently in the pedigrees of barrel horses: Easily Smashed, himself a champion, and Easy Six, the sire of Streakin Six. Look for Easy Jet's name also on the bottom side of the pedigree, as he became a most successful broodmare sire.
---
Easy Jet is in the pedigree of the following Sunrise West horses:
In 2006, our foal crop will include full brothers or sisters to these horses, that are out of own daughters of Bugs Alive In 75 and On The Money Red!
---
Pedigree of Easy Jet Sorrel Stallion
---
(SIRE side)
Top Deck (TB)
Moon Deck
Moonlight Night
Jet Deck
Barred
Miss Night Bar
Belle Of Midnight
---
(DAM side)
Percentage (TB)
Three Bars (TB)
Myrtle Dee (TB)
Lenas' Bar
Gray Dream (TB)
Lena Valenti (TB)
Perhobo (TB)
---
If you found this information via a search and you have not yet seen our Horsemanship and Pole Bending section, we would like to encourage you to take a look.
---
Ken and Pat Smith
Sunrise West Quarter Horses, LLC
2240 4th Avenue
Clarkston, Washington WA 99403
509-758-9426

All content in this document copyright © Sunrise West Quarter Horses, LLC, all rights reserved.