---
Packin Sixes, Barrel Horse Sire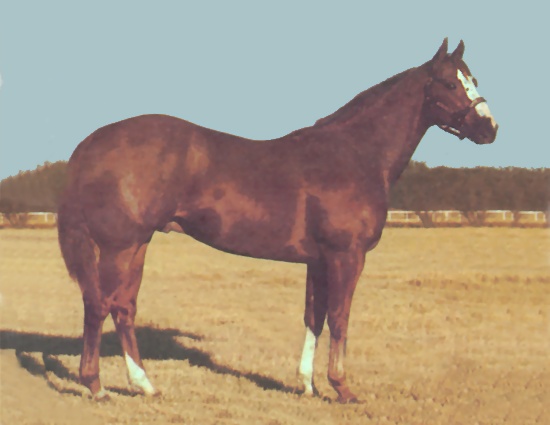 This Strawberry roan stallion stood 15.3 hands and weighed 1,300 pounds. On the track Packin Sixes had a speed index of 99. He started 19 races, winning five, showing twice, and placing once. He was a finalist in the All American Futurity, and had lifetime earnings of over $86,000.
He suddenly appeared on the barrel racing scene as several of his offspring moved to the top of the list of money-winning barrel horses. People took notice at the exceptionally high percentage of winners that he produced. Packin Sixes died on June 15, 1998 at the age of 12. We'll never know how prolific a sire of leading barrel horses he could have been.
Packin Sixes was on the Leading Barrel Horse Sires list several times:
2000: Number 1
1999: Number 11
1998: Number 2
1997: Number 2
Verily Sixes' dam, Money Red Bar, was bred to Packin Sixes via cool shipped semen in April, 1998, and only a couple of months later, he was gone. We understand that Verily Sixes is the only Packin Sixes offspring out of an On The Money Red mare. You can get more information on her via the pedigree page.


Packin Sixes - barrel horse bloodlines at their best!
---
Packin Sixes is in the pedigree of the following Sunrise West horses:
---
Pedigree of Packin Sixes 1986 Red Roan Stallion
(You can click on the horses' names in
red

to learn more about them.)
---
(SIRE side)
Easy Jet
Jet Deck
Easy Six
Lena's Bar (TB)
Peggy Toro
Hijo the Bull (TB
Streakin Six
Prescott Peggy Joe
Little Request (TB)
Requested (TB)
Miss Assured
Little Wichita (TB)
Assured
Direct Win (TB)
Sally Rand V
---
(DAM side)
Three Chicks
Three Bars (TB)
Three Oh's
Chicado V
Oh My Oh
Spotted Bull (TB)
Copasetti
Miss Meyers
Triple Money
Triple Chick (by Three Bars)
Mona Pollita
Monita
Berwin
My Leo
Flyers Win
---