---
Fire Water Flit, Barrel Horse Sire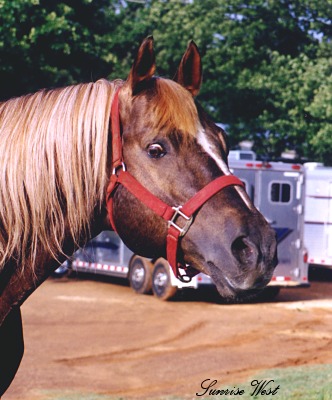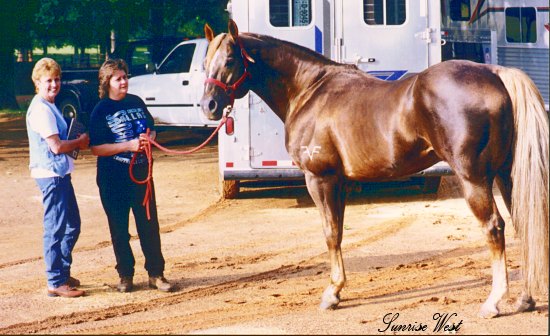 ---
Fire Water Flit remains one of the leading barrel horse sires of today. He has been on the list of leading sires year after year, and with an unusually high number of winning barrel horses contributing to his successful winnings record. That indicates many different mares, different types of mares, and many different riders are successfully winning riding his offspring.
He was the product of crossing a NFR qualifying mare with Flit Bar, sire of great and successful arena horses of all types. Flit Bar is representative of what has become known as a "magic cross", Leo daughters bred to the great Sugar Bars. Slash J Harletta, his dam, was so successful as a producer of winning barrel horses that her offspring have been referred to as a 'dynasty'.
Fire Water Flit passed away in his stall from natural causes on December 20, 2005.
Flit Bars have a characteristic way of handling themselves in a turn - they are very smooth and easy to ride, and they get their hindquarters low in the ground. The 'Flit Bar era' could be said to have begun in 1975, when Jimmie Gibbs Monroe won the World Championship Barrel Racing title on a Flit Bar son. We don't think that 'era' has ever ended.

Several sons of Fire Water Flit are now producing winners. The young son of Fire Water Flit that we bred and raised, Fire Water Magic, has produced some fine looking horses for us. You can find Fire Water Flit in the pedigrees of several of our horses.
Fire Water Flit - barrel horse bloodlines at their best!
---
Fire Water Flit is in the pedigree of the following Sunrise West horses:
---
Pedigree of Fire Water Flit 1978 AQHA palomino stallion
(You can click on the horses' names in
red

to learn more about them.)
---
(SIRE side)
Three Bars (TB)
Percentage (TB)
Sugar Bars
Myrtle Dee (TB)
Frontera Sugar
Rey
Flit Bar
Mare by Ben Hur
Leo
Joe Reed II
Flit
Little Fanny
Julie W
Joe Hancock
Burnett Mare
---
(DAM side)
Hank H
King P234
Harlan
Queen H
Dixie Beach
Beetch'sYellowjacket
Slash J Harletta
Mayflower 2
Frog W
Black Hawk
Frog's Annette
Mae West
Miss Cheyenne W
Revenue
Cheyenne Lady H
---
If you found this information via a search and you have not yet seen our Horsemanship and Pole Bending section, we would like to encourage you to take a look.
---
Ken and Pat Smith
Sunrise West Quarter Horses, LLC
2240 4th Avenue
Clarkston, Washington WA 99403
509-780-9426

All content in this document copyright © Sunrise West Quarter Horses, LLC, all rights reserved.