---
Snaffle Bit Basics
by Ken Smith
---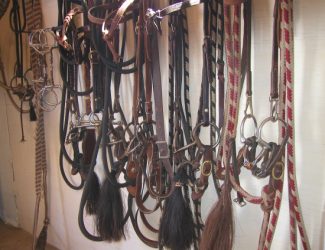 The snaffle bit is a precision tool for establishing high levels of horse handling. Some regard the snaffle as a kind of kindergarten bit that, once the horse graduates to grammar school, the bit no longer serves a purpose. That couldn't be further from reality. The snaffle is a very sophisticated piece of equipment, and is a useful training aid throughout a horse's performance career.
In our tack room, there are a multitude of snaffles of varying styles mounted on headstalls, available for use at any time. There are O-ring, egg-butt, Don Dodge western dee, straight mouth 2-piece, 3 piece with a roller, dog bone, twisted 2-piece, and varying combinations of these. But they are all sweet iron mouth pieces, and almost all have some copper inlay to promote salivating.


Before we go any further, let's define what we mean by a snaffle. A snaffle is a non-leverage bit. By that we mean there are no shanks and no curb that would create leverage. Snaffles are hinged at the corners of the mouth, and have a two-part or a three-part hinged mouthpiece. A hinged mouthpiece does not, in itself, make a bit a snaffle.
The snaffle is a one rein bit ridden with two hands. The rein that applies direct pressure is called the active rein. The other rein will then be a passive, or a balance rein.
Snaffles work by allowing the rider to use one rein to apply pressure to one corner of the mouth independently. Depending on how it is employed, it can also simultaneously apply a varying degree of pressure to the horse's face on the opposite side, as the cheek ring piece contacts the side of the jaw with a pushing effect.
Most colts are started in a snaffle because it is an excellent tool for introducing the colt to the independent feel for each side of the mouth, and to the principles of pressure and release. If these principles are taught carefully and correctly with the snaffle at the beginning of a horse's life, they will readily transfer to any bit or hackamore.
We use snaffles throughout our horses' performance careers. We will often 'tack up' in a snaffle, and hang the performance bridle on the saddle horn as we head for the arena. We'll use the snaffle for suppling exercises and to get the horse looking for the 'feel'. And it is the bit to use for that 'back to the basics' session.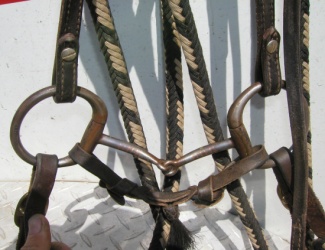 How many snaffles are hanging in your tack room? I hope there is at least one. And if you could own only one, what should it be? The one that would work well on most horses would be a two-piece smooth mouth, sweet iron with copper inlay. One of our favorites is a Jeremiah Watt egg butt snaffle (pictured on the left), but these handmade bits are not inexpensive. If you can't spend the money for a handmade bit, then avoid the O-ring snaffles, because cheaply made O-rings are prone to pinch the horse's mouth. Choose an egg butt or a dee, as these are hinged tightly so that no pinching can occur. And use a hobble strap - it will not act as a curb, but it will help prevent the snaffle from pulling through the horse's mouth.
---
If you found this information via a search and you have not yet seen our Horsemanship and Pole Bending section, we would like to encourage you to take a look.
---
Ken and Pat Smith
Sunrise West Quarter Horses, LLC
2240 4th Avenue
Clarkston, Washington 99403
509-780-9614

All content in this document copyright © Sunrise West Quarter Horses, LLC, all rights reserved.