---
Bugs All Night 2001 Bay Gelding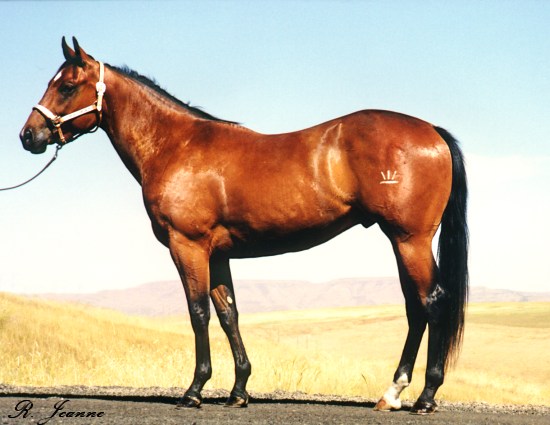 This is 'RJ'. He was a January foal, and he's going to be a good-sized horse. His sire, All Night High, tied the track record for 300 yards at Oklahoma City. His dam is an own daughter of Bugs Alive in 75. She is a good-sized mare, with good bone, good muscle, and excellent conformation. RJ inherited her wide eyes and very attractive face. He definitely looks like his mother, and she is gorgeous.
Visitors have suggested RJ would show well at halter. He has the beautiful head with the wide eyes, long, balanced neck, broad across the shoulders, and he looked like a full-grown horse at a year old. He has long straight legs, and his most notable characteristic is his smooth, flowing way of traveling. He could go to the track. He will be a runner. How will he turn? We can't be sure, but Bugs Alive horses have always had a lot of get down and turn.
Everyone will recognize the great Dash For Cash in the pedigree, but RJ's grandsire, On A High, is a well-kept secret. This horse rates a speed index of 113. He won the All American Futurity as a 2-year old, and went on to be a leading sire of champions. With all that 'run' in his pedigree, we elected to nominate RJ for the MBNA America Quarter Horse Racing Challenge program.
Look at all the Top Moon blood in this colt. Lady Bugs Moon has been found in champion barrel horse pedigrees for years, and look at his dam's sire - Bugs Alive In 75 - the April 2002 edition of Barrel Horse News lists him as the number one leading maternal grandsire of barrel horses in 2001, and number two in 2002! And there he is in the pedigree of Bugs All Night, right where he is supposed to be!
And by the way, when you look at the statistics, pay attention to the number of horses reported. If only one or two horses contribute to a high rating, then that winning horse could be a fluke. But Bugs Alive had 54 money winning horses contribute to his rating! That suggests this blood wins when crossed with many different types of mares, and when the horses are ridden by many different riders.

---
---
---
Pedigree of Bugs All Night
(You can click on the horses' names in
red

to learn more about them.)
---
(SIRE side)
Dash For Cash
Rocket Wrangler
On A High
Find A Buyer (TB)
Yankee Doll (TB)
Mito Paint (TB)
All Night High
Crafty Yankee (TB)
Lady Bug's Moon
Top Moon
Ma Send Me
FL Lady Bug
Miss Mannsville (TB)
Above the Law (TB)
Sun Gleam (TB)
---
---