---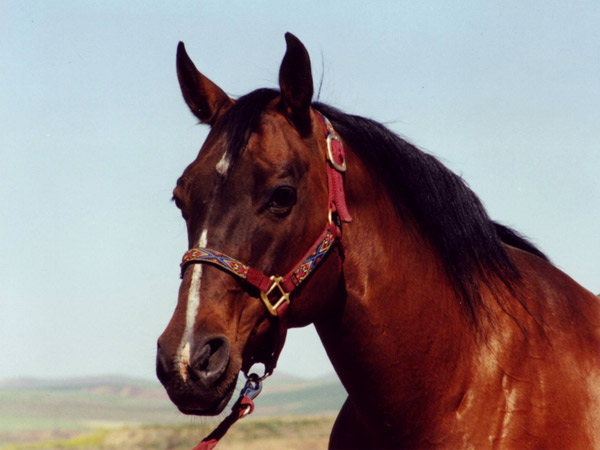 Emma was an own daughter of Bugs Alive In 75, a stallion that for years found a significant place in the pedigrees of money-winning barrel horses. Emma was one of the last remaining own daughters of Bugs Alive In 75. As these great mares one by one have passed away, Bugs Alive has fallen out of the statistics, but Equistat for years continued to list Bugs Alive In 75 as the number one leading maternal grandsire of barrel horses over a 10 year period, and there were no other horses even close. When you look at the statistics, pay attention to the number of horses reported. If only one or two horses contribute to a high rating, then that winning horse could be an exception. But in the stats for Bugs Alive In 75, you could see hundreds of money winning horses contributing to his rating.
Bugs Alive In 75 own daughters are really rare, especially in our area of the country, and this one was special. 'Emma' was a big bay, 15'1 and heavy boned, with straight legs and a beautiful head with chiseled features and very wide-set eyes.
Emma earned a Racing ROM (Register of Merit) and a best Speed Index of 91. Two (2) of her foals have gone on to earn Racing ROMs.
A stallion out of Emma, Verily Six Bugs, now deceased, received three (3) awards from the American Quarter Horse Association at the end of his 4 year old year - his first year of competition:

4th place in the nation in Junior Barrel Racing,

7th place in the nation in Open Barrel Racing,

and

High Point Open Barrel Racing Stallion for 2006!

In 2007, he earned his AQHA Superior in barrels.
Emma is in the pedigree of three of our current young horses: Bugged By Magic, a 2007 gelding by Fire Water Magic, Sixes Streakin Echo, a 2008 gelding by Verily Sixes, and Fuzzy Magic, a 2009 gelding by Fire Water Magic.
Emma was the matron of our herd. She had a foal by Streakin Six, the paternal grandfather of our stallion, and then had some by Verily Sixes, the grandson. We lost another mare to colic and she had a three month old foal at her side at the time. Emma was no longer able to have foals of her own, but she raised that foal, her grandson, as if it were her own, teaching him manners and protecting him.
We lost Emma on Thanksgiving weekend, 2013. She was a joy to be around, and we feel blessed to have had her in our lives. The great bloodlines of the past are still available, but they are getting rare. Bugs Alive In 75 is still making his mark today.
---
---
Miss Emma Pyron is in the pedigree of the following Sunrise West horses:
---
Pedigree of Miss Emma Pyron
(You can click on the horses' names in
red

to learn more about them.)
---
---
(DAM side)
Three Chicks
Three Bars (TB)
Mr T Chicks
Chicado V
Miss Bonnie Rose
Hayward Lee
Jetettas Chick
Bonnie Rock
Southern Jet
Jet Deck
Southern Jetetta
South Pacific
Bonnie Alert
Buddy Dexter
Bonnie Blue
---