---
Bugs Alive In 75, Winner of the 1975 All American Futurity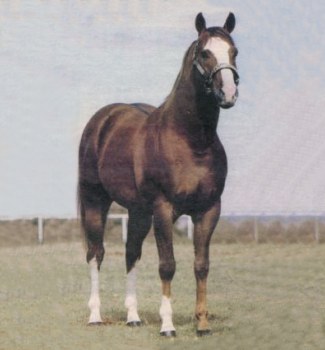 Foaled in 1973, the 15.2 hand sorrel stallion was named for the year he would be eligible to run in the All-American Futurity. And run he did. In 1975 he lived up to his name, winning the All-American and with it the richest purse quarter horse racing had witnessed up to that time. That same year he was named Quarter Horse Running 2-year-old Colt and Stallion, and was the 1975 High Money-Earning Horse.
Those closest to him have contributed clues to his success. His jocky likened his start to a drag race. He said that the horse took such a deep bite of the ground, that with all his power, it was like 'spinning your wheels' at the start. He was said to come out of the gate so strong that you had to be careful not to lose control. Top a good start like that with blinding speed and you have one hard to catch horse. His wins were at distances of 330 yards up to 440 yards. He had the start and the quick speed, and also the stamina to see it through.
Bugs Alive died following colic surgery on December 15, 1985 at the age of 12. He was owned by Ralph and Betty Shebester of Wynnewood, Oklahoma. Tommy Wells of Harrah, Oklahoma, stood him. In an interview with Barrel Horse News, Wells was asked about the traits the stallion passed on to his progeny. "Stamina and willpower," he said. "They're not quitters. Bugs wasn't a quitter. Pain's no problem, they just keep going."
In the barrel arena, Bugs Alive has sired some top money earners, and two (2) were out of the great mare, Slash J Harletta, the dam of Fire Water Flit. One of these was Smakabug, a 1980 model that took Celie Ray and Jimmie Munroe to the WPRA pay window. The other was I Got Bugs, a 1982 gelding that Celie Ray rode all the way to the NFR in 1987 and 1989.
Today, Bugs Alive is making the greatest impression with his maternal offspring. His own daughters are older now, and growing scarce, but they are still producing horses of rare quality. Equistat has continually listed Bugs Alive In 75 as the number one leading maternal grandsire of barrel horses over the last 10 years, and there is no other horse even close. And by the way, when you look at the statistics, pay attention to the number of horses reported. If only one or two horses contribute to a high rating, then that winning horse could be a fluke. But Bugs Alive In 75 has hundreds of money winning horses contributing to his rating! That suggests this blood wins when crossed with many different types of mares, and when the horses are ridden by many different riders. Year after year, Bugs Alive In 75 continues to be the leading maternal sire of money winning barrel horses.
Bugs Alive In 75 - barrel horse bloodlines at their best!
---
Bugs Alive is in the pedigree of the following Sunrise West horses:
---
Pedigree of Bugs Alive In 75 1973 Sorrel Stallion
(You can click on the horses' names in
red

to learn more about them.)
---
(SIRE side)
Top Deck (TB)
Equestrian (TB)
Moon Deck
River Boat (TB)
Moonlight Night
Peace Pipe (TB)
Top Moon
Mae 3
Barred
Three Bars (TB)
Rica Bar
Ready
Caprica
Nassak (TB)
Puzzle
---
(DAM side)
Jack Straw (TB)
Silver Horde (TB)
Jack's Jet (TB)
Absurdity (TB)
Spotted Jet (TB)
Spotted Bull (TB)
Ralph's Lady Bug
Miss Balen (TB)
Leopie
Leo San (Leo)
Lady Bug Leo
Sis Waggoner
FL Lady Bug
Sergeant
Yeager's Lady JA
---
If you found this information via a search and you have not yet seen our Horsemanship and Pole Bending section, we would like to encourage you to take a look.
---
Ken and Pat Smith
Sunrise West Quarter Horses, LLC
2240 4th Avenue
Clarkston, Washington WA 99403
509-780-9426

All content in this document copyright © Sunrise West Quarter Horses, LLC, all rights reserved.