---
'Trixie' was an own daughter of On The Money Red, all time leading sire of money-winning barrel horses. She was out of an own daughter of Biankus, Callie Kay Biankus, that Pat Smith campaigned on. Callie is a full sister to Bogie Biankus, Randi Rae Britt's stallion that was 5 times WPRA Columbia River Circuit Finals Champion, and that Katie McCoin rode at the NFR in 1999. Trixie truly was a Biankus, as she inherited the Biankus characteristics. You can see the bushy mane and the Biankus head in the photo. She also had the hip and shoulders, and quick, snappy moves.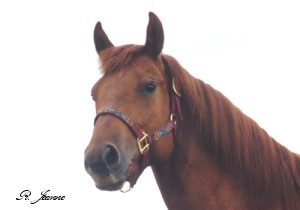 She showed great promise as a baby. She would spin in her stall on her hindquarters, round and round, and never tear up the straw. We had great competitive hopes for her, but she suffered an injury to her hip as a foal that prevented her from competing. She then moved into our broodmare band. Over the years, the muscles in her injured hip continued to shrink and tighten, making it difficult for her to take her leg forward. Still, she would gallop across the pasture with the other horses. She was a wonderful mother, and was very careful with her babies, encouraging them to nurse from her "good side". Foaling became more difficult and dangerous for her in her later years, and she produced one foal via embryo transfer.
This mare's oldest offspring is High On Biankus, or Toby. He is a 2001 bay gelding that is winning big time on the east coast. Toby is impressing all who watch him with his power and his deceptively fast clocking ability.
This mare was a strong breeder and really put her mark on her foals. They have all had her Biankus characteristics: steep hip, small head, bushy mane, snorty attitude, and lightning quickness. Check out her 2006 filly, Sixey Biankus. She is so much like her mother that we are calling her Trixie Junior.
Trixie was a full sister to HaveMoney WillTravel. "Willy" is another Sunrise West success story.
---
---
---
SS Reds On The Run is in the pedigree of the following Sunrise West horses:
---
Pedigree of SS Reds On The Run 1998 Sorrel Broodmare
(You can click on the horses' names in
red

to learn more about them.)
---
(SIRE side)
Bennie Leo
Dynamatic (by Leo)
Bennie's Big Red
Tonkawa Ploma
Pay Jay
Ben Jay
On The Money Red
Pay Day Star
Little Dick Priest
Adios Kip
Dolly Priest
Dixie Britt
Queen Jacket
Misty Joe
May Queen
---
(DAM side)
Skippety Flip
Skipper W
Biankus
Sheba II
Hansen'sMissWaggoner
Roan Waggoner
Callie Kay Biankus
(Full sister to Bogie Biankus)
Hansen Mare
Brown's Royal
Royal Bar
Calapooia Kay
Henryetta Brown
Fame Request
Little Request (TB)
Fame Slipaway
---